If a project cannot be completed in 2 hours or less, it will not be finished.  That's why I've never taken up knitting, cross-stitching, recipes involving overnight processes, etc.  I stick things with quick results.  SO, interior projects don't get done.  I start something and get distracted.  But, not this summer.  No this summer, I decided to conquer the kids' rooms.
I started with Jillian's room because she has less stuff and I like girly things better.  When we moved into the house 3 years ago, she was a toddler and loved everything pink.  The room was a wash of pale pinks and little bits of green.  I loved it, but there wasn't much going on.  She just turned seven, so we were thinking it was time to liven up the colors a little bit and make the room more age appropriate.
The first thing we did was choose colors.  They were based off the pillows on the bed, which I found at Room Service.  I like to have one splurgey thing in the room that sets the tone.  Everything else can pretty much be found on Craigslist or secondhand.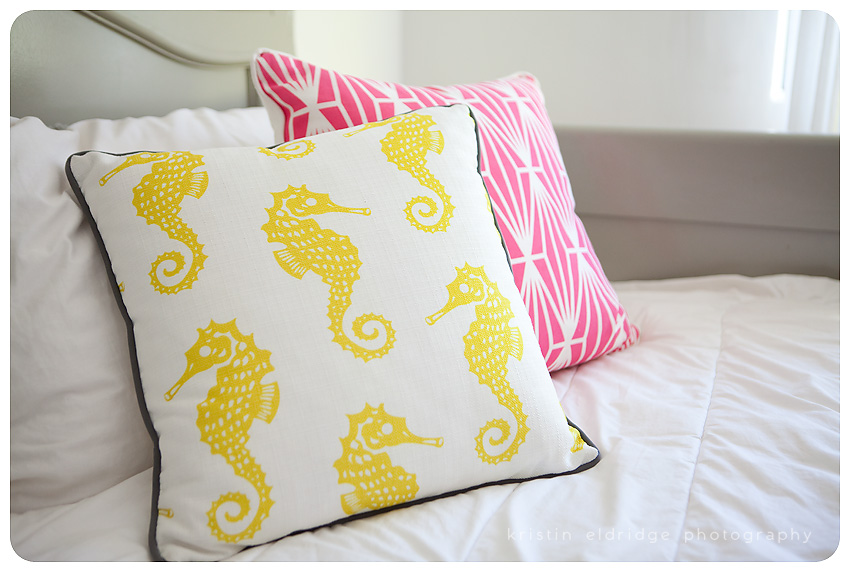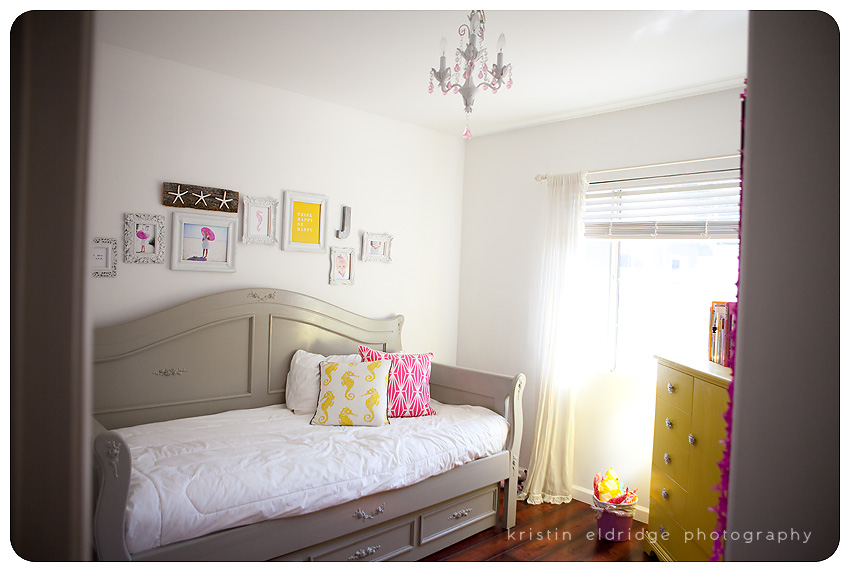 The trundle bed is from Craigslist and it's just the shabby chic part of me that I can't get rid of.  I like girly things!  So, Laura helped me choose colors that would venture away from the shabby and into something a little more modern.  We painted the bed gray and kept the walls white for contrast.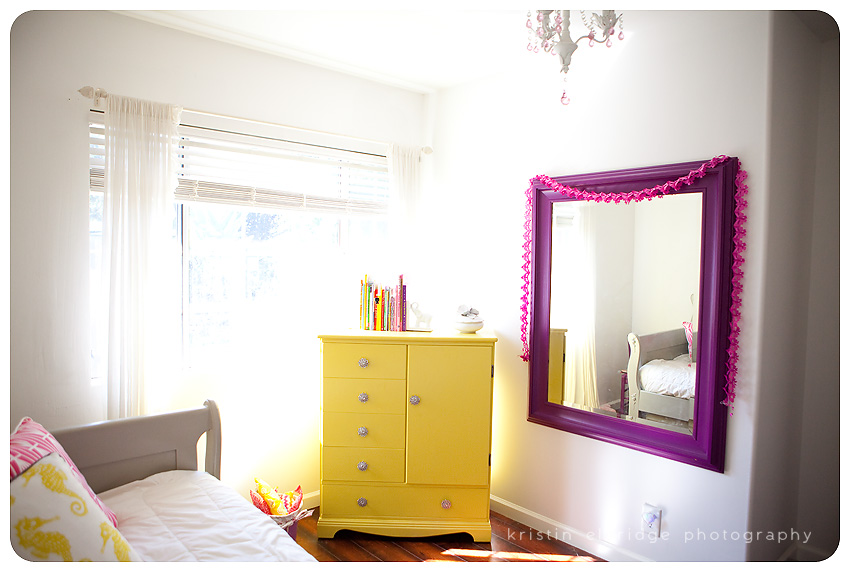 The dresser is a mini armoire wardrobe that I bought before Jillian was even born at a thrift store in the bay area.  It was in her room before, but I had painted it pale pink, distressed it and kept the original wood hardware.  In the make-over it got painted a citron yellow and fancied up with rhinestone hardware.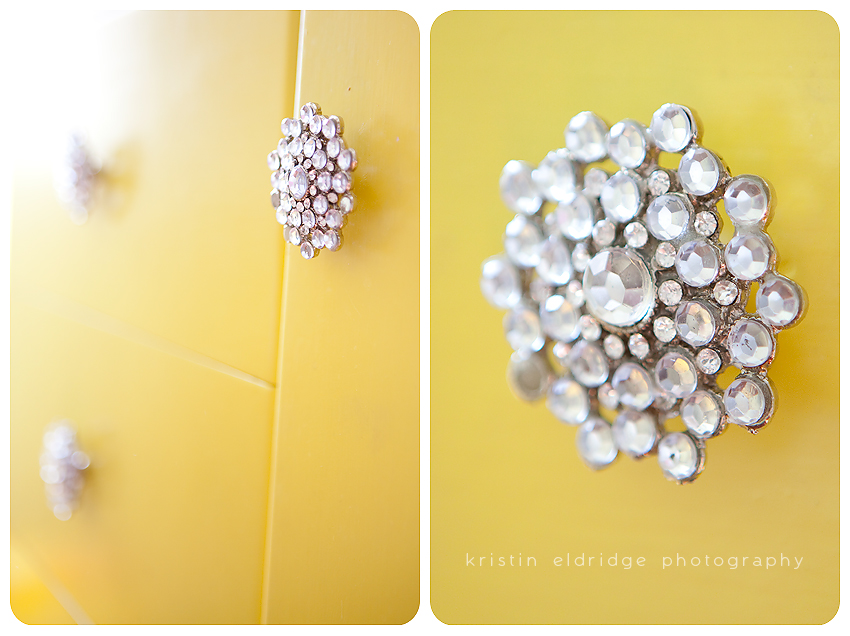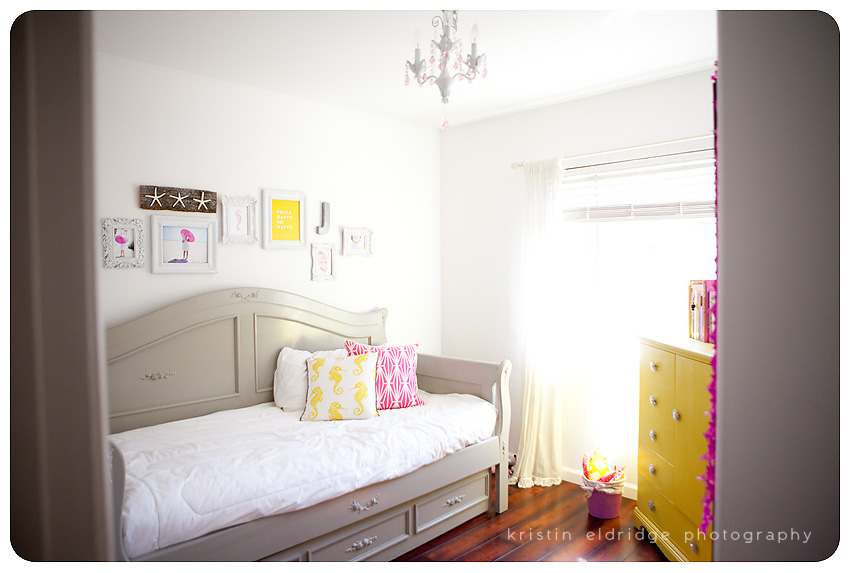 Her chandelier is a cheapy from Home Depot and that stayed from the original room!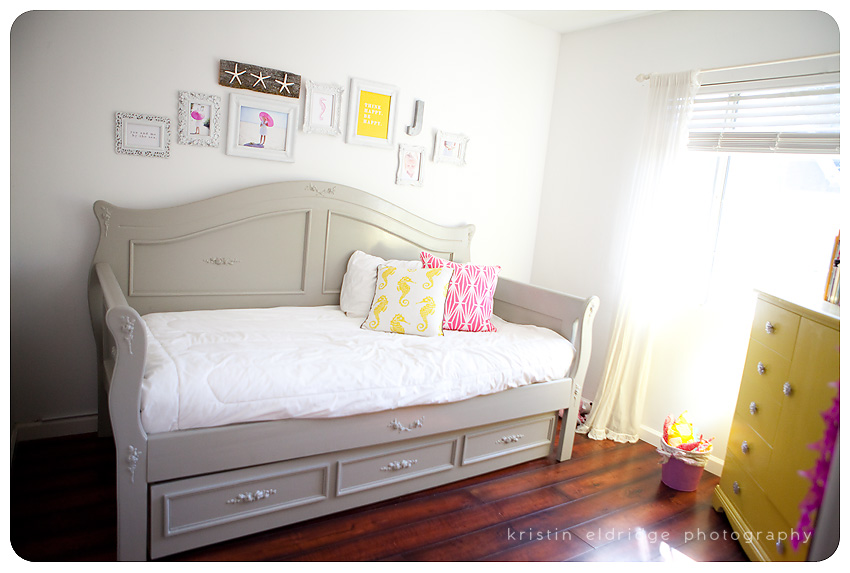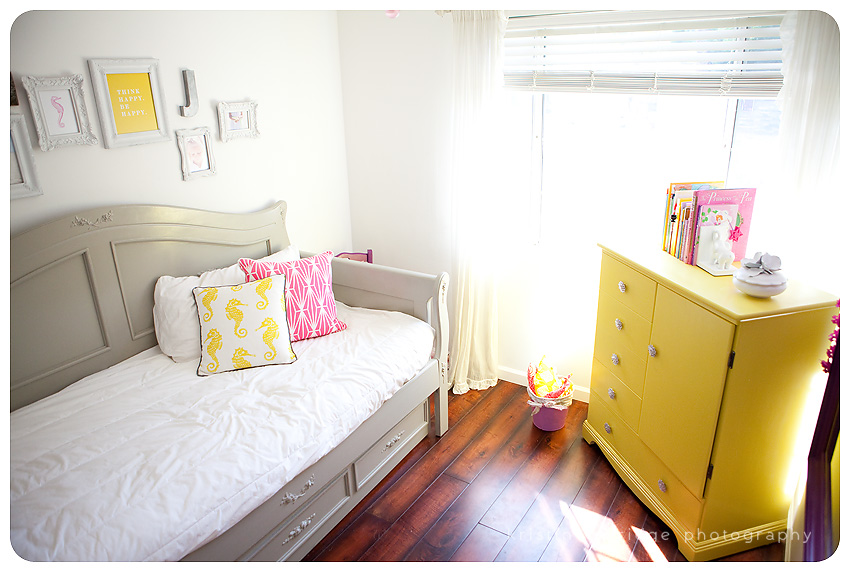 This wall was fun to put together.  I did a mini photo shoot with Jillian and tried to incorporate the colors of her room.  We used some of the photos in frames I had bought at Home Goods and spray painted white.  I made a few graphic prints to mix in and the zinc letter J is from Anthropologie.  The barnwood is scrap from one of my recent backdrops and I hot glued starfish from the shell store in Seal Beach to the front.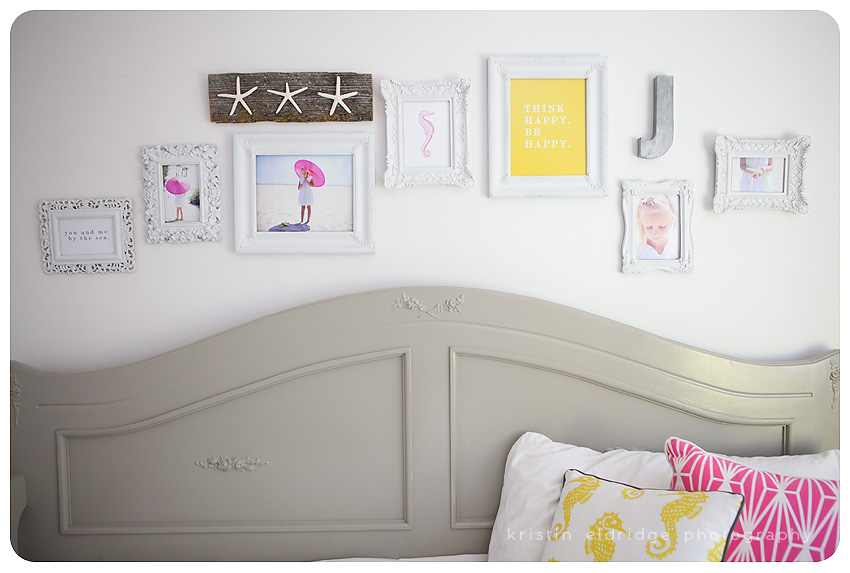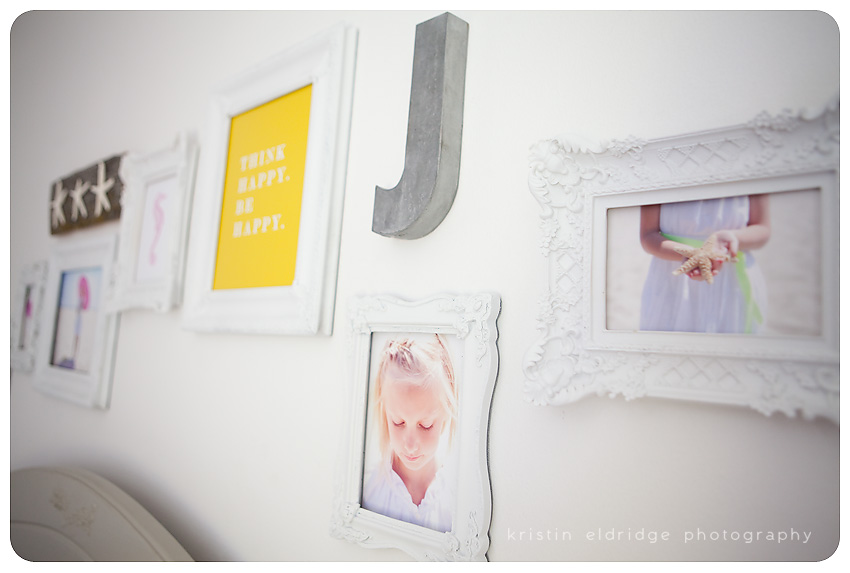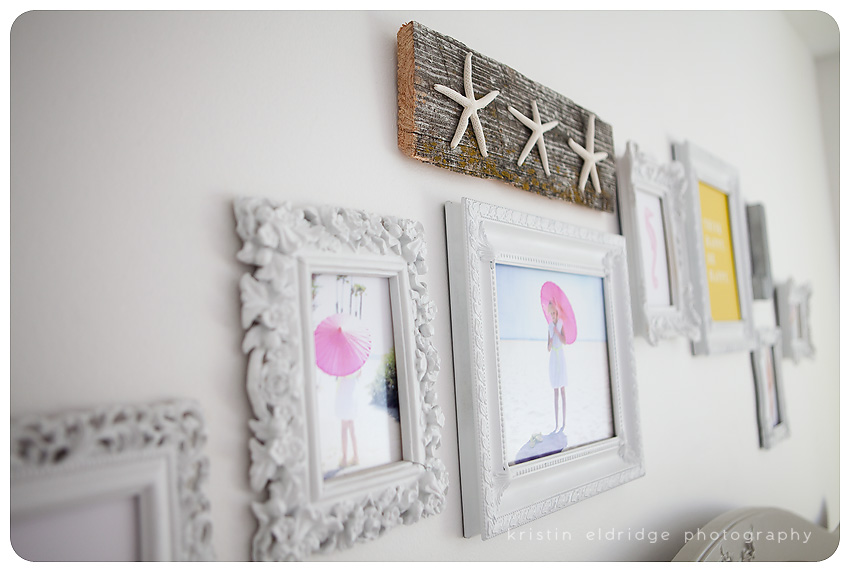 Jillian likes to collect things, so I got her this oversized piece of pottery from an estate sale and spray painted it white.  It keeps all the not-so-pretty things she finds all tucked away!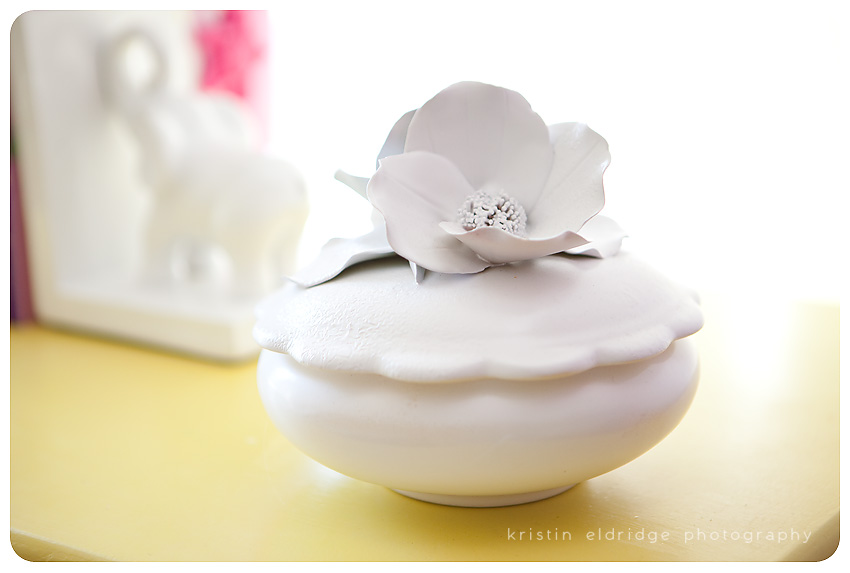 Her favorite story books are nestled between elephant book ends that I found at Home Goods.  It's the perfect little pop of color for the top of the dresser.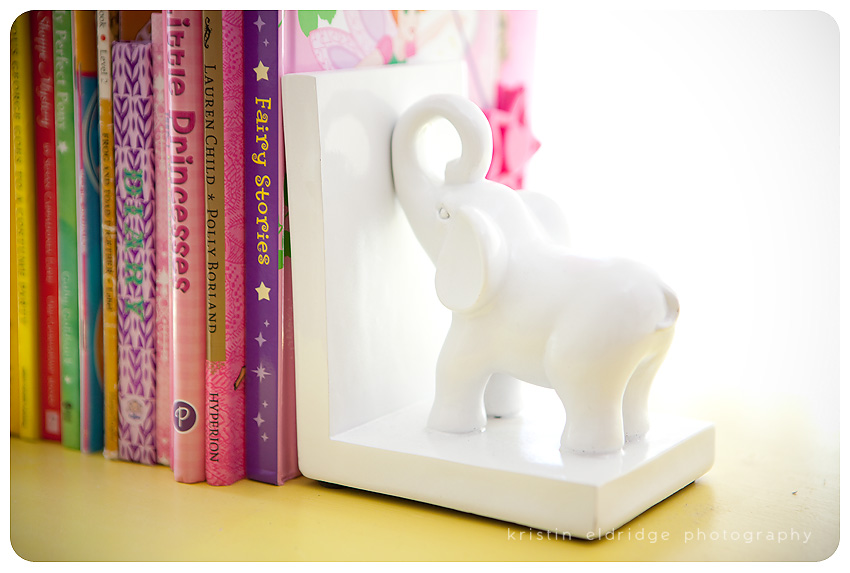 And by the way…all her toys are organized in bins in the closet behind where I'm taking the photos.  The room is tiny, but the perfect amount of space for a little girl!