Wow…the day after Christmas.  I can't believe it's come and gone.  This year, I had more time than usual, so I spent hours in the kitchen cooking and baking.  That's something I love to do.  In fact it was my most favorite hobby until I discovered photography.  Anyway, I photographed a few of my projects to share on the blog.
Every year we kick off the season with a concert at church and it's always amazing.  It's nice to be reminded of why we celebrate Christmas.  The hustle and bustle can take away from the true meaning, so I love that we take the time to do this.  My father-in-law conducts the orchestra and choir, so it makes it even more special.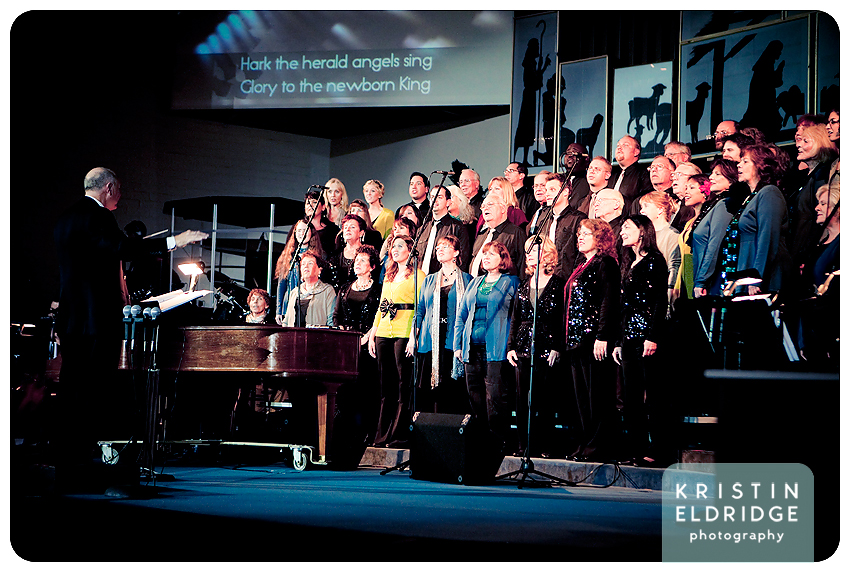 We had a nice Christmas Eve dinner because it was the day most of our family members could be there.  But, that didn't stop us from having a big Christmas dinner too!  Jake helped me all day with the preparations.  He loves to cook and bake…probably the most of all the kids.
We made pan-fried onion dip for an appetizer and it was delicious!  It was a new recipe for me and like all of Barefoot Contessa's recipes, it was filled with things not so good for you.  Soooo, I tried to balance it out with lots of veggies and some handmade crackers.  We use mini-loaves of bread that my mother-in-law makes and top them with a little olive oil and garlic salt, then pop them in the oven.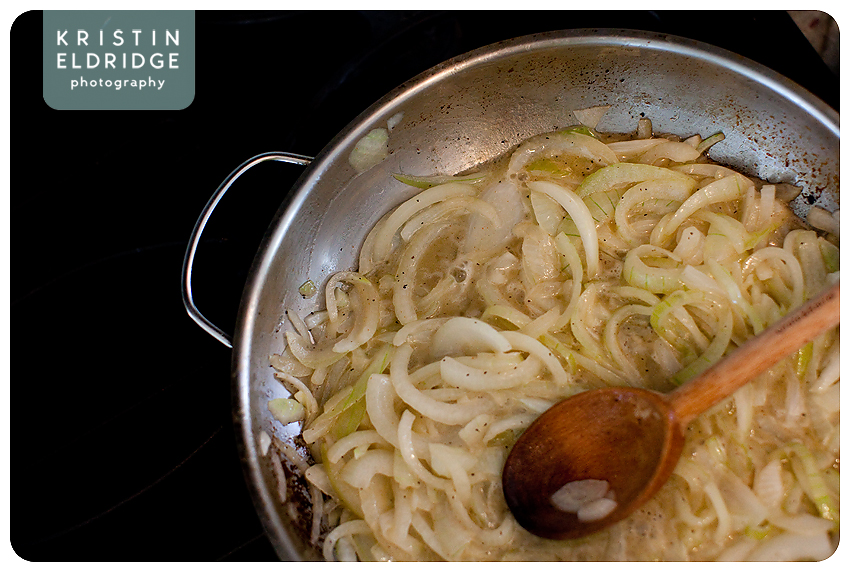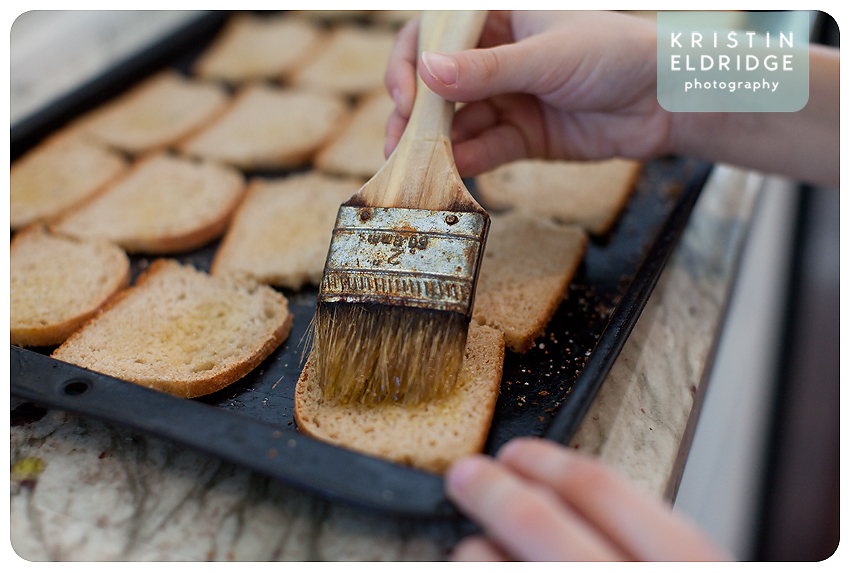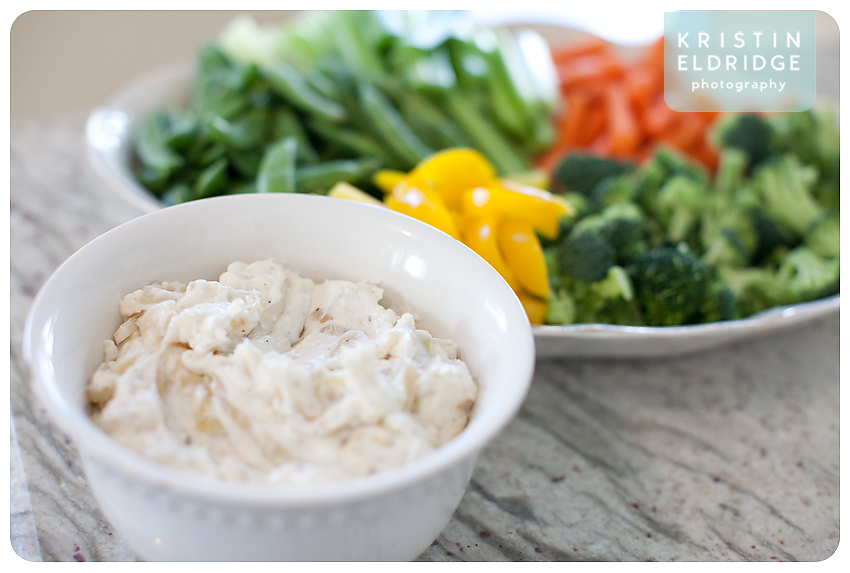 This is a totally simple recipe, but it comes together so well!
Cut the onions in half and then slice them into 1/8-inch thick half-rounds.  (You will have about 3 cups of onions.) Heat the butter and oil in a large saute pan over medium heat. Add the onions, cayenne, salt, and pepper and saute for 10 minutes.  Reduce the heat to medium-low and cook, stirring occasionally, for 20 more minutes until the onions are browned and caramelized.  Allow the onions to cool.  Place the cream cheese, sour cream and mayonnaise in the bowl of an electric mixer fitted with the paddle attachment and beat until smooth. Add the onions and mix well.
Some great friends sent us a smoked turkey, so I just made some macaroni and cheese (I've posted about them before-recipe here), mashed potatoes (Jake peeled the whole 5 pound bag for me!), a green salad and some homemade cranberry sauce.
I love making cranberry sauce because it's so easy and it tastes like you did something incredible.  I just use the recipe on the back of the bag of whole cranberries…that you find in your produce section of the market.  Serving it in an antique bowl makes it even better. 🙂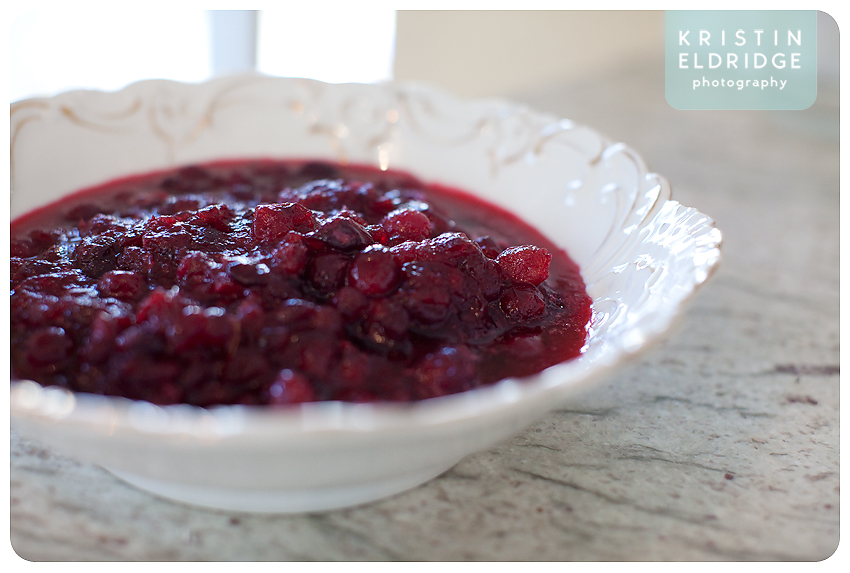 Okay…on to Christmas day.  My mother-in-law makes the most amazing cinnamon rolls, so we had those for breakfast, snacked on veggies and onion dip, then had our big Christmas dinner.  I made prime-rib.  My meat thermometer was broken since the last time I used it, so we just had to totally guess it and thankfully it turned out perfect.  We all love tons of horseradish…the stronger the better!  I made a double batch of mashed potatoes and macaroni and cheese from the night before, so it made it easy to just throw them in the oven.  Then we did sauteed mushrooms and a broccoli salad to top things off!  I have never been a huge fan of broccoli salad until my mom introduced me to this recipe.  It's the perfect combination of tangy and sweet.  She wrote the recipe down for me with no measurements (ha!) so I eyeball everything.  You basically add a little mayo, vinegar and sugar to chopped broccoli, red onion, bacon and craisins.
Jake and I also made a pumpkin cheesecake that turned out amazing.  It was a little labor intensive, but totally worth it.  We got all fancy dancy and took out my frosting tips for the cinnamon whipped cream.  It was served with my mother-in-laws famous apple pie.  Then we all died from consuming wayyyy to many calories!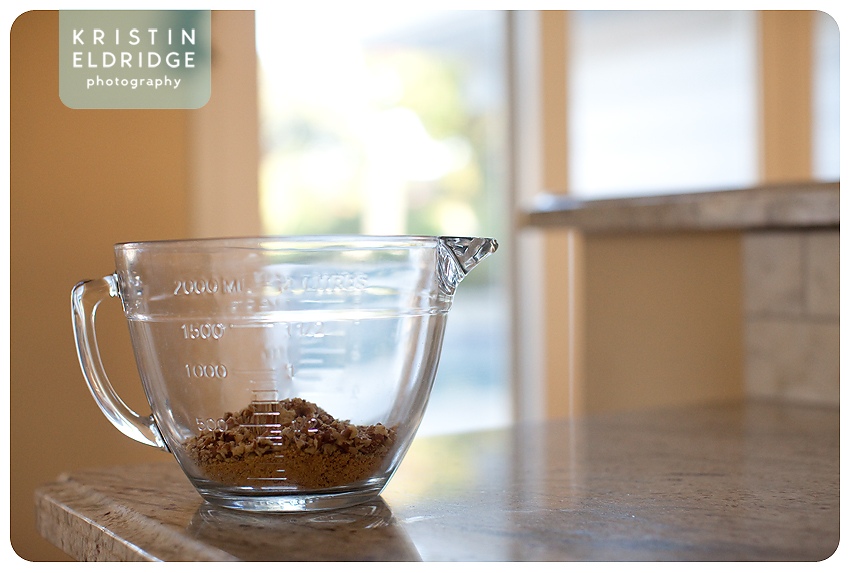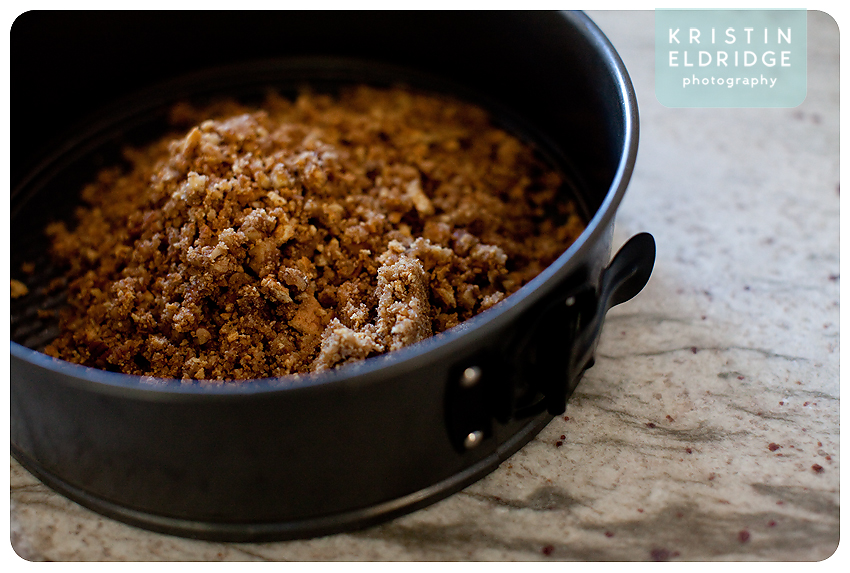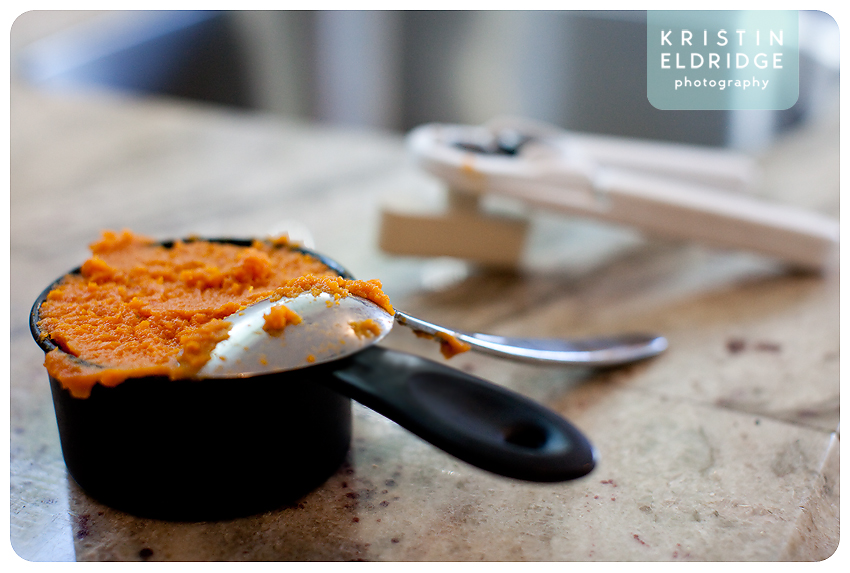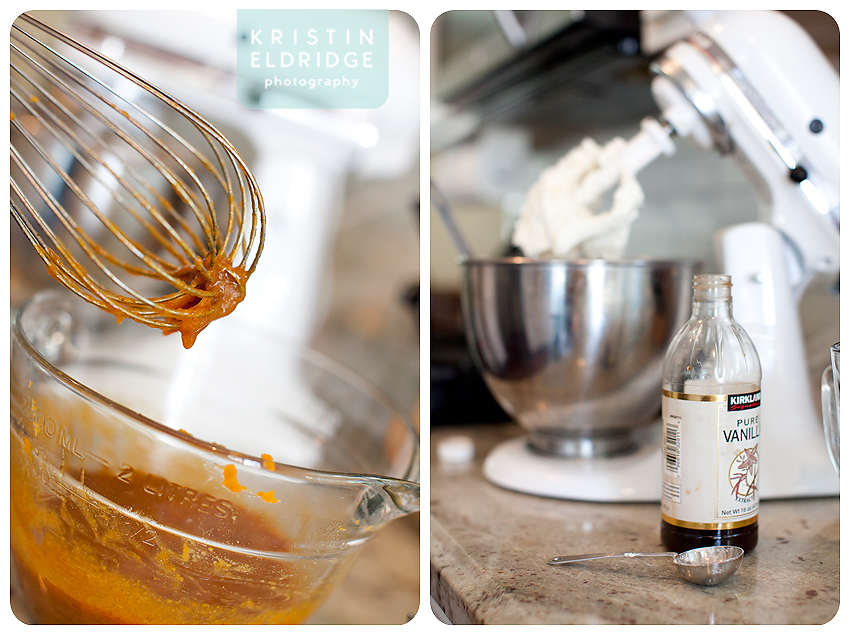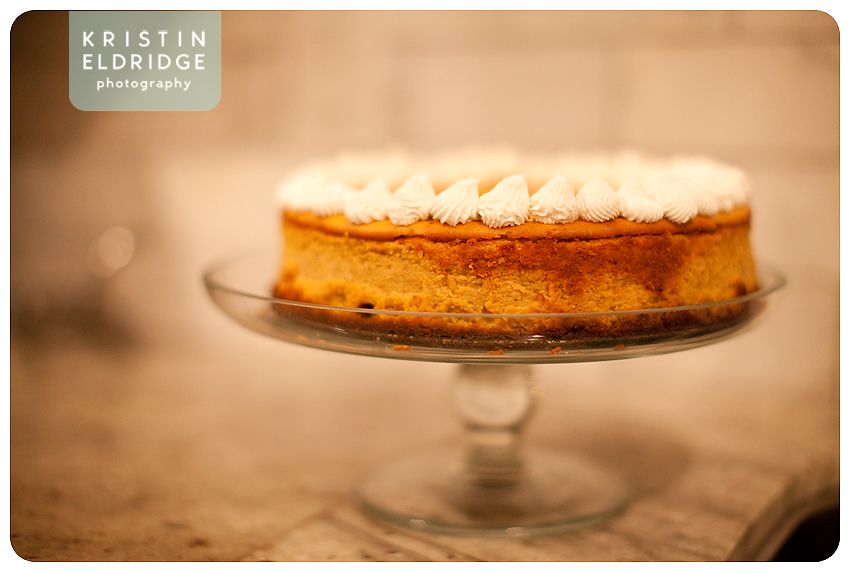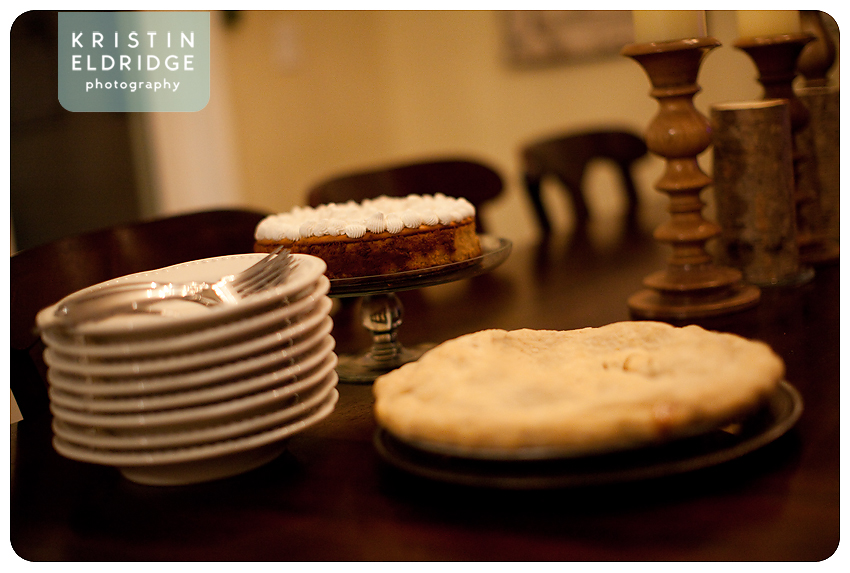 Here's the recipe for the cheesecake:
Crust
Filling
cinnamon whipped cream for garnish
Place rack in center of oven. Preheat oven to 350°F. Make crust: Combine all crust ingredients in a bowl. Press onto bottom of 10 inch springform pan and bake for 10 minutes. Remove to cool. Make filling: Whisk together pumpkin, eggs, spices, salt and ¾ cup of the sugar. Cream together cream cheese and remaining sugar. Beat in cream, cornstarch and vanilla. Carefully beat in pumpkin mixture. Pour into crust. Lift pan 1 inch off counter and let drop (this breaks up any air bubbles in the batter that may contribute to cracking). Bake for 40-45 minutes, or until center is set. Run a thin, sharp knife around edge of pan to release crust (this too helps inhibit cracking). Let cool, covered loosely, overnight. For cinnamon whipped cream: Beat cream until foamy. Beat in sugar and cinnamon until the cream holds soft peaks.  Garnish with cinnamon whipped cream.
I have to leave you with a few pictures from Christmas morning…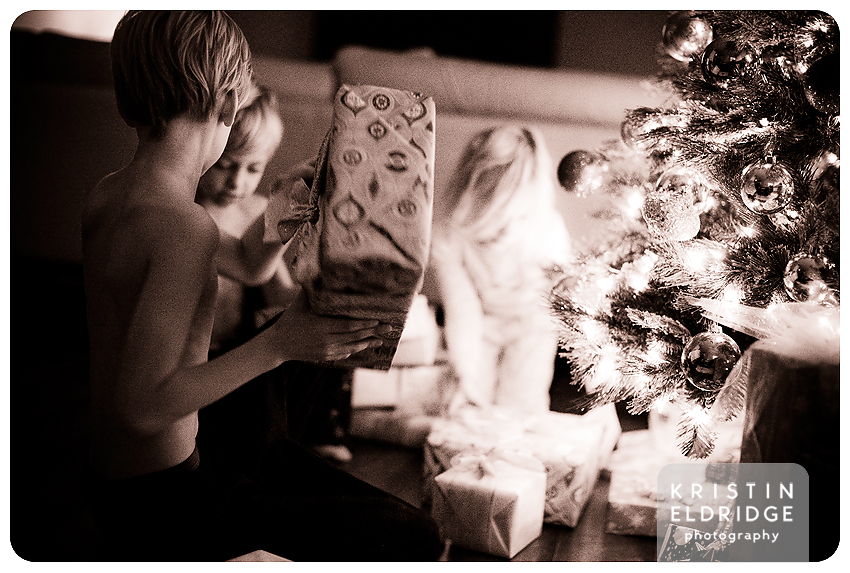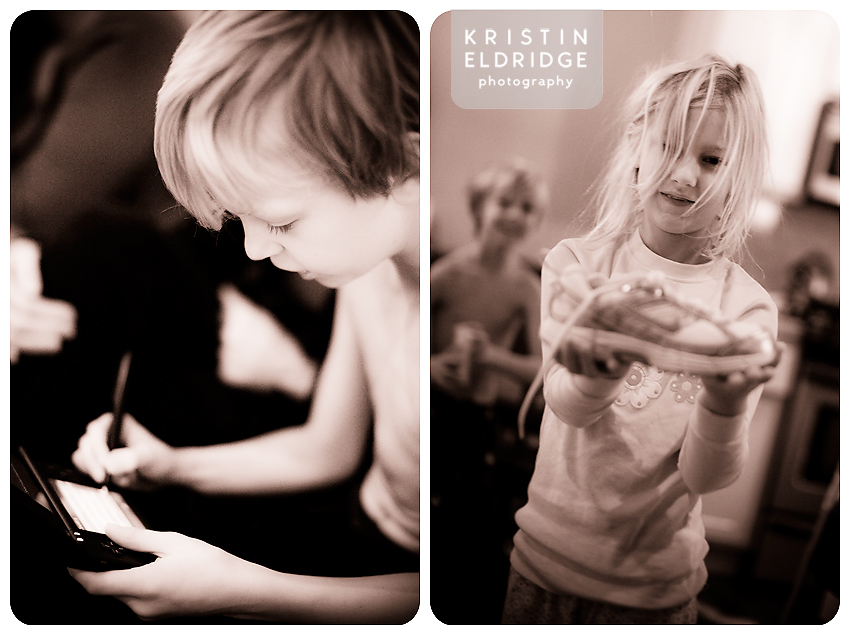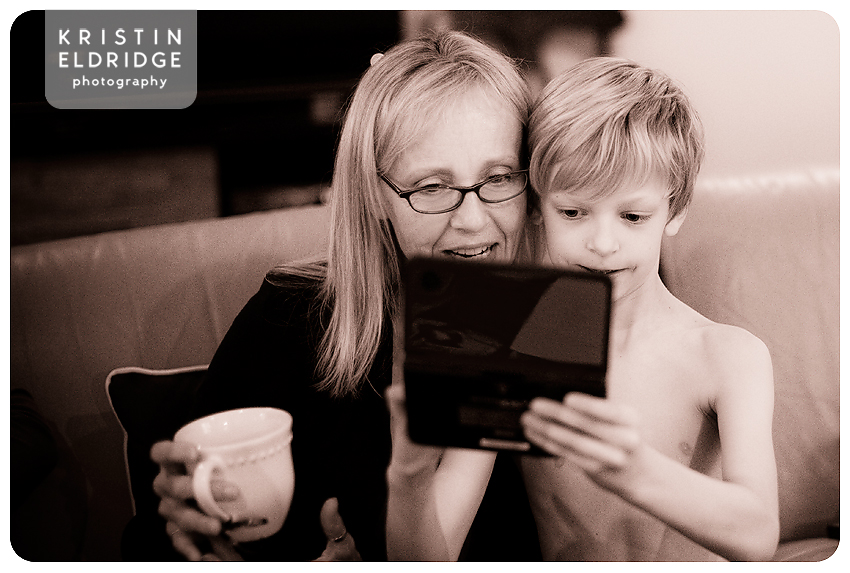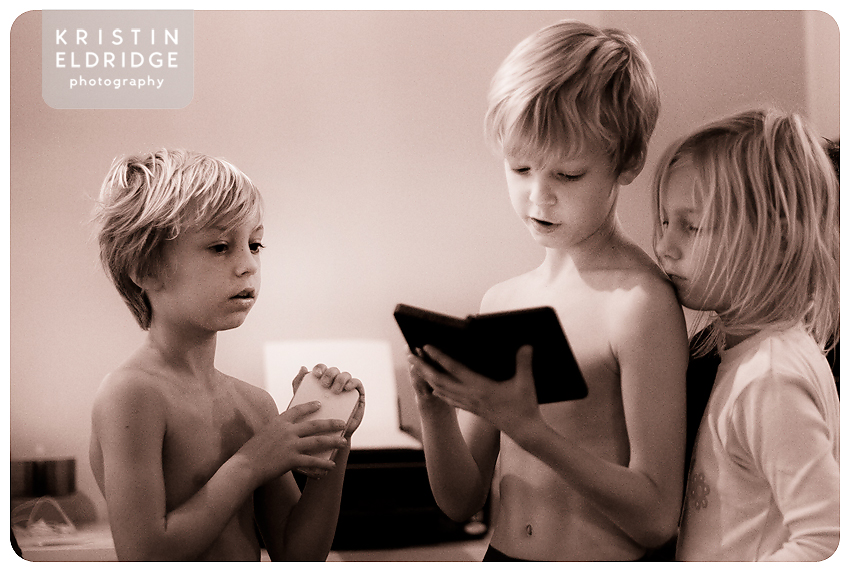 I can always count on Cooper for a fantastic reaction to gifts.  This year was no exception.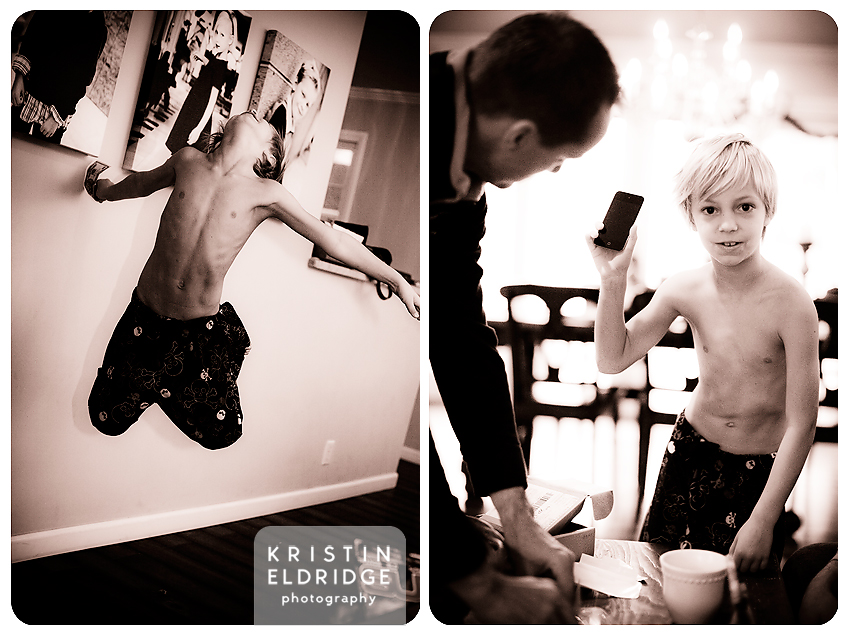 I'm also hoping to find out Cooper's secret for ripped abs.  I wouldn't mind having abs like that. 🙂
-Kristin