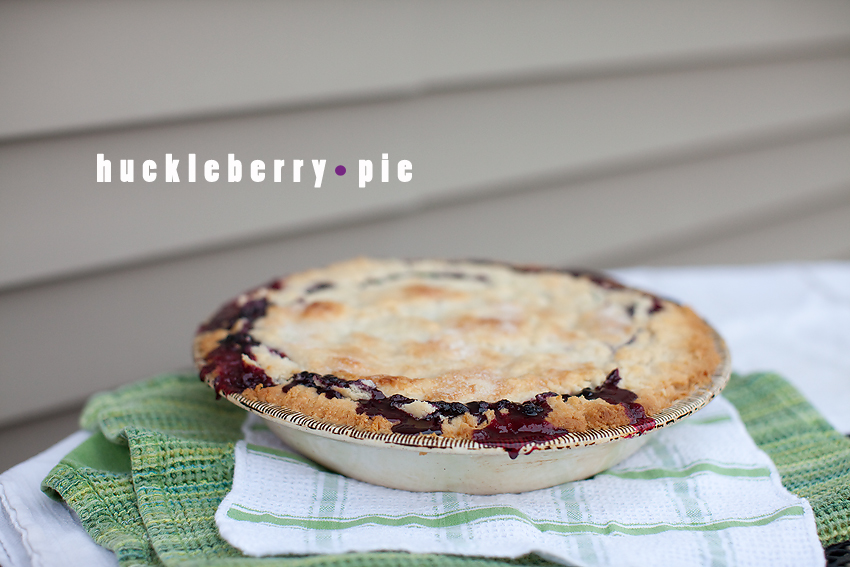 If you know me well, you know I go for it.  Recover my patio furniture- sure, rehab a 200 year old sofa- why not?,  make a pie from scratch- let's do this.  I definitely have a history of failures, but I also have successes under my belt, so I'm not afraid to try.  As in, not afraid to try a new crust recipe that my veteran-pie-making-mom wasn't so sure about.  But, guess what?  It turned out pretty fantastic.  A bit of a weepy pie, but a delicious one.  One that you might just have eaten for breakfast the next day.
Let me tell you a bit more about this pie.  The story starts in Blodgett Canyon outside of Hamilton, Montana.  We were hiking and fishing with the kids.  It took a few hours for the kids to get the hang of fishing and my dad wanted them to be able to catch their own.  The go-for-it-girl decides to collect some huckleberries while we were hiking around.  Let's make enough for some pancakes, was my first thought.  When that was accomplished I moved on to an ice cream topping and as my back was aching from all the foraging, I decided we would not go home until we had 5 cups.  Enough for a pie.  Well, we couldn't remember if it was 5 cups or 6, so we went with 6 cups.  Which also meant that we had enough for pie AND pancakes.
Huckleberries are most like a blueberry, but smaller.  So, you can imagine how long it took us to collect that many huckleberries.  Thanks mom and dad for putting up with the obsessive-ness about making this pie!
The recipe we used was from Saveur…and as I said, very tasty!  If you don't live in an area where you can get huckleberries, either buy frozen or use blueberries.  Click here for the original recipe.
FOR THE PASTRY:
2 1/4 cups flour
1/2 tsp. salt
8 tbsp. butter, chilled and cut into pieces
8 tbsp. vegetable shortening
11/2 tsp. cider vinegar
FOR THE FILLING:
1 cup plus 1 tbsp. sugar
4 tbsp. quick-cooking tapioca
1 tsp. ground cinnamon
1/2 tsp. freshly grated
nutmeg
Pinch salt
5 cups fresh or partially thawed frozen huckleberries stemmed
2 tbsp. fresh lemon juice
2 tbsp. butter, chilled and cut into pieces
1. For the pastry: Sift together flour and salt into a large bowl. Using a pastry cutter or 2 table knives, work butter into flour until mixture is flecked with pea-size pieces of butter. Add shortening and work into flour mixture until it is flecked with pea-size pieces of shortening. Combine vinegar and 6 tbsp. ice water in a bowl, then stir into flour mixture 1 tbsp. at a time, mixing until dough holds together. Form into a rough ball, then divide dough into 2 balls, one slightly larger than the other, wrap each in plastic, and refrigerate for 2 hours.
2. For the filling: Combine 1 cup of the sugar, tapioca, cinnamon, nutmeg, and salt in a large bowl. Add huckleberries and lemon juice, gently toss, and set aside for 15 minutes.
3. Put a baking sheet on oven rack in lower third of oven. Position another oven rack in middle of oven. Preheat oven to 450º. Roll out larger dough ball onto a lightly floured surface into a 12″ round and fit into a 9″ pie plate. Fill with huckleberry filling and scatter with butter. Roll smaller dough ball into a 10″ circle, place on top of filling, then fold edge under and crimp. Brush pastry with water, make 5 slits in top pastry for steam to escape, and sprinkle with remaining 1 tbsp. sugar. Bake pie on baking sheet until pastry begins to brown, 20-25 minutes. Transfer pie to middle rack, reduce oven temperature to 350º, and bake until pastry is deep golden brown, about 50 minutes more. Set pie aside to cool completely.