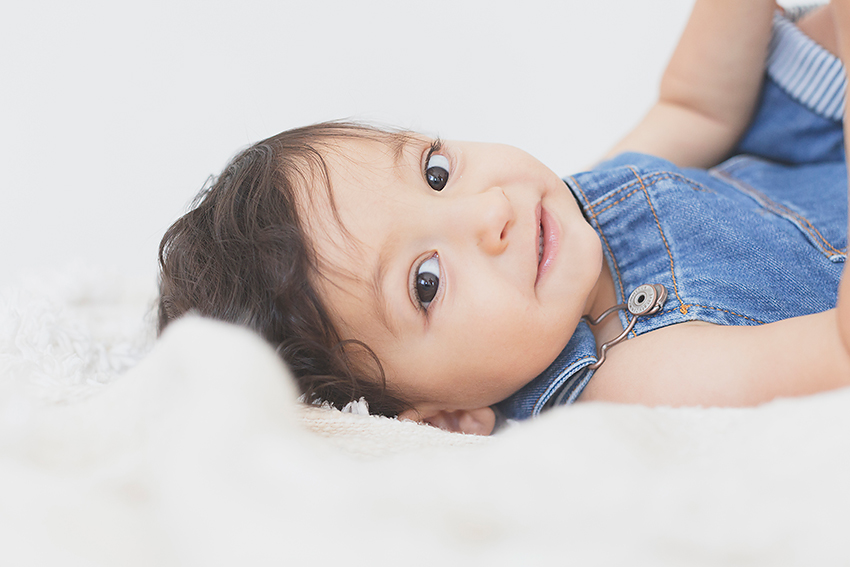 Studio sessions don't have to be boring!  I personally love shooting in my studio because there are no variables.  I can always count on good light coming through the windows.  There's no wind to mess up hair and I don't have to photoshop people out of the background!
The thing you'll have to be creative with during a photo session is posing.  Because the background doesn't change, the people have to!
Here's my step by step process for a family portrait session in the studio.  I've used this method over and over and I always get great images!
Start by standing – Have parents take turns holding their child as they stand.
Move to sitting – I love using this futon covered with a textured blanket.   It's low, so it allows me to get a variety of angles while the family is sitting.
Play pass the toddler- As the family is sitting down, I ask them to pass the baby back and forth quickly.  I love the variety of images and all the little snuggles and kisses that happen in between the passes.
Photograph the toddler alone- The futon is also a great place to let the toddler sit or crawl around with mom and dad close by.  I love being able to be close and the angle is just high enough to make it look like he's on the ground.
I hope this helps you get even more variety for your next family portrait session in the studio!