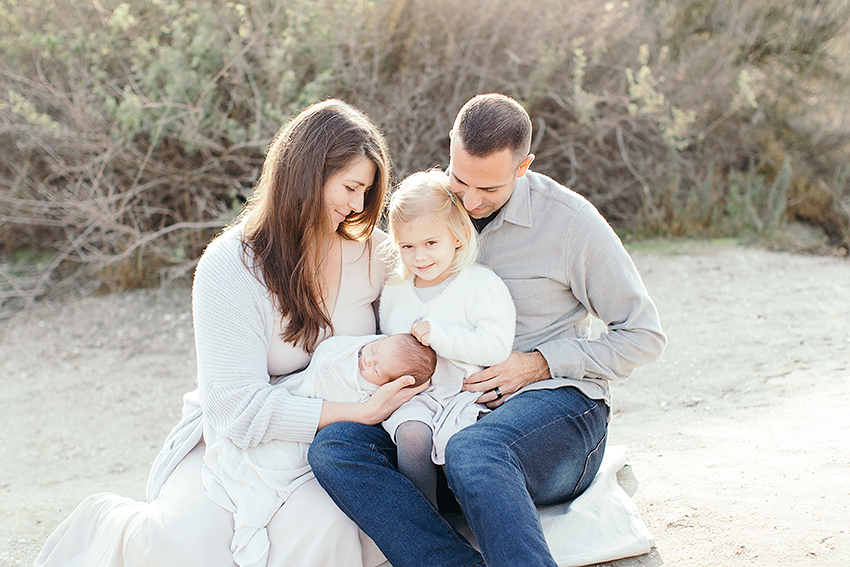 The majority of my newborn sessions happen in my studio.  And if not in my studio, then at a client's home.  But, every so often, I have a family that prefers nature.
There are a few helpful tips I have for ensuring a successful outdoor newborn session!
 Dress for the weather.  You want everyone to be comfy and cozy…not just the newborn.  Of course you'll want some thick blankets for baby.  But, also make sure your toddler is warm enough as well as both parents.  Happy people photograph well!
Consider feeding times.  Again, this goes for everyone.  Make sure to nurse the baby or bring a bottle for the car before the session.  And bring snacks for your toddler, so everyone has a full tummy.
Bring something to sit on.  While I love standing shots, they can be a bit more formal.  So, if you have the option to sit down, take it.  Families can snuggle up a little better while sitting.
Rely on close crops for sibling photos.  When I'm in the studio, I use a bed to allow toddlers to hold their baby siblings.  But outside isn't conducive to that type of pose.  Instead, I give each parent a sibling and arrange them so I can get close cropped images without the parents' faces.