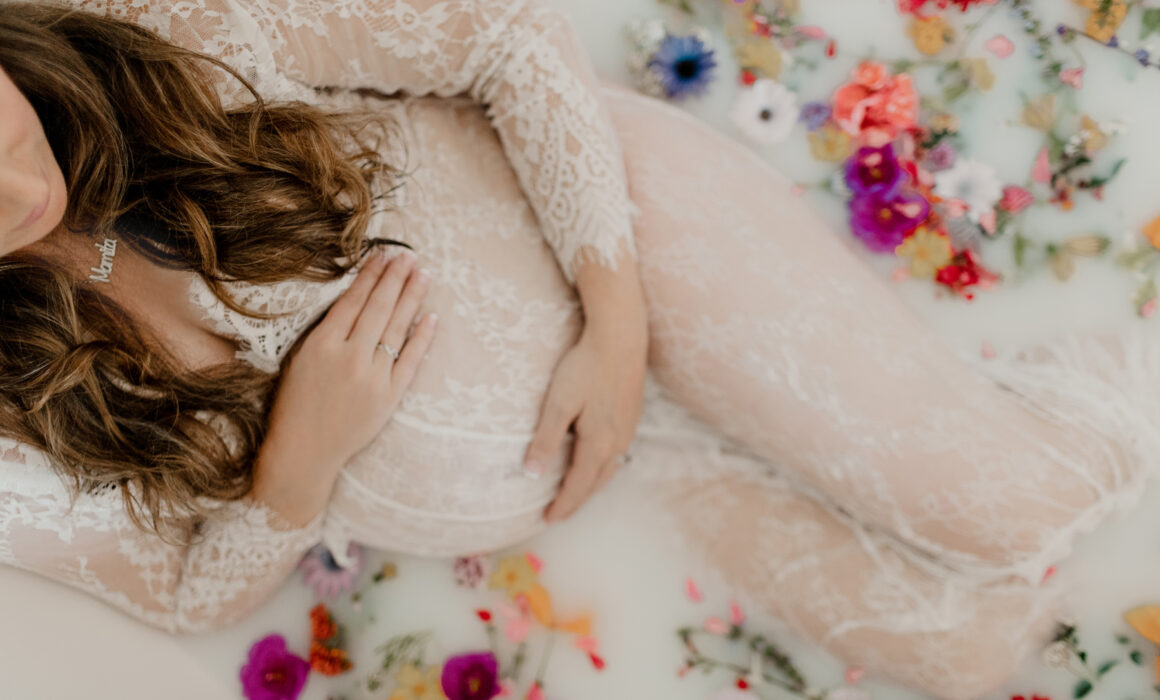 One of my previous newborn clients asked me if I knew anyone that did milk baths.  Instead of referring it out, I decided to learn how to create the most beautiful milk bath for a maternity photography session.
The first thing we talked about was location.  Most photography studios don't have a stand alone bath tub, so options typically include the client's home or a hotel room.  I'm lucky enough to have a spacious bathroom with a stand alone tub and very neutral decor, so we decided to do the session in my bathroom.
The next thing to discuss was what she would wear and the color scheme for the flowers.  She wanted a light colored dress, so she ended up purchasing this sheer floor length dress on Amazon.  The beauty of a milk bath is the soft colors, so something sheer is perfect.  For the logistical details, she chose nude colored under garments, so it would blend in with the skin and nothing would need to be photoshopped out.
She wanted colorful flowers since everything else would be white.  Originally I planned on picking up a colorful bouquet from Trader Joe's but, I noticed my neighborhood was full of pretty wildflowers growing right off the sidewalk.  So, I went on a walk and picked a bag full of flowers for the shoot.  What I love about it was that they were much smaller than the size of full blooms.  The shapes were varied instead of all large round shapes.  So, if you have the option to pick flowers outside, give it a try!
5 Tips for a Successful Maternity Milk Bath Photo Session
 Prep everything ahead of time.  I prepared the bath (warm water and one gallon of whole milk) and had the flowers trimmed and ready to go.
 Start by taking some photos outside the bath before the client gets into the tub.
 Since the photos generally look good taken from overhead, you'll want to start by taking photos of the milk bath alone (before you add flowers) to add more variety to the gallery.
 It works will to add the flowers around the client in the tub rather than getting into a tub full of flowers.  The flowers tend to sink once the water is moved around.
 Have the client change positions from belly up to belly sideways to get even more variety.  I also took a combination of cropped photos and full body images to add to the looks.